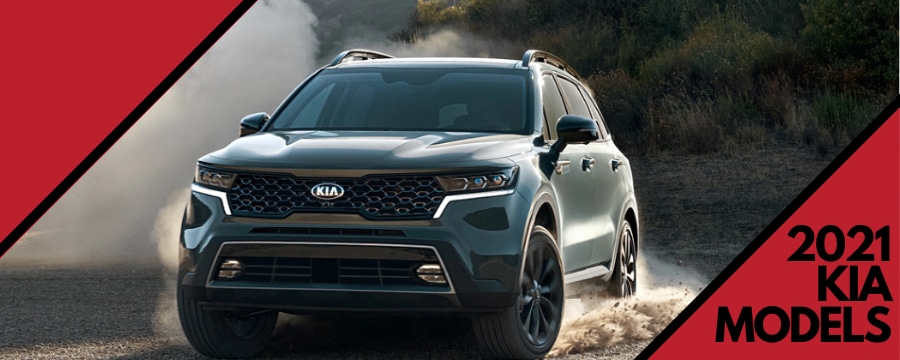 Kia has big things in store for the 2021 model year. This means all-new editions and great upgrades to your favorite Kia models for sale which include the Kia Soul EV, Kia Sorento, and Kia Seltos. And here at Raymond Kia, we have much more than just great prices on Kia's full range of vehicles, we also have excellent customer service and support. But first, let's talk about the 2021 Kia sedans, SUVs, and crossovers we have for you.
2021 Sorento
If you're looking for a Kia for sale in Antioch, consider the Kia Sorento. This midsize crossover SUV has been serving drivers well for almost twenty years and the 2021 model year will see the 4th generation of his great SUV. There will also be a hybrid option available. Upgrades to both interior and exterior are also in store which includes a new dial selector, vertical LED tail lights, and an exhaust tip integrated with the rear bumper. In addition to the hybrid, a 2.5L 4 cylinder V8 mated to an automatic transmission with a diesel option will likely.
Trim levels include: Sorento LX, Sorento S, Sorento EX, Sorento SX, Sorento SX Prestige, Sorento SX Prestige X-Line
2021 Seltos
The 2021 Kia Seltos is a subcompact crossover SUV that can handle city and country roads with equal mastery. It features a high ground clearance and AWD plus 62.8 cubic feet of cargo space. A choice of 2.0L four-cylinder producing 146 horsepower or a 1.6L turbocharged engine producing 175 hp is on offer at your Antioch Kia dealer.
Trim levels include: Seltos L, Seltos S, Seltos EX, Seltos SX
2021 Kia Soul EV
For those looking for something a little greener, the 2021 Soul EV is the hybrid you've been waiting for. We had to wait an extra year here in the States for the new Soul EV with a 64 kWh battery pack that produces an impressive 201 horsepower and 291 lb-ft of torque. That's more than the Kia Soul GT-Line Turbo's 201 hp but only 195 lb-ft of torque.
2021 Kia Models
So now you've learned a little bit about some of the upcoming Kia models. If you want to learn more about other models, such as the 2021 Kia Sportage and Telluride SUVs or the Kia Forte, Kia K5, or Kia Stinger sedans, call or stop by your favorite Kia dealership today. We'd be happy to discuss which model fits your budget and lifestyle. We also have a large inventory of certified pre-owned vehicles. And ask us about financing!
Visit Raymond Kia Today!
If you're wondering where is the Kia dealer near me? It's right here at Raymond Kia. You'll find us at 119 Rt 173 in Antioch, IL. Or call our sales department at 888-474-5730.