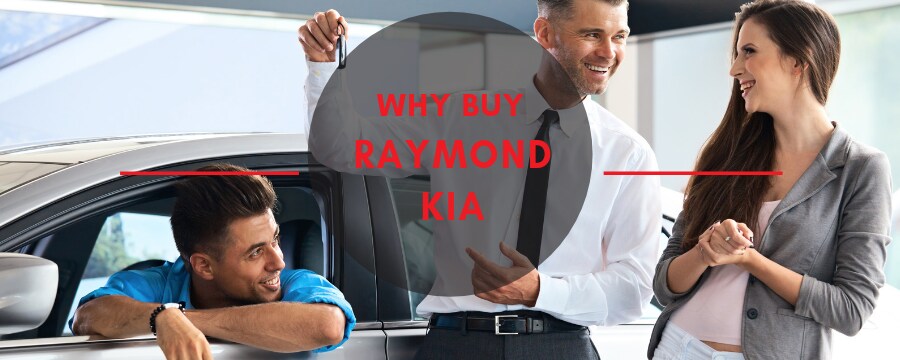 Why Buy Raymond Kia
Raymond Kia is the perfect Kia dealership near you. Here, we treat our customers like family. Knowing how we can make your Kia experience with us even better than ever, is at the heart of our business! We expect a certain level of service from ourselves and so should you, as a car buyer. 
We have a great selection of Kia models for sale near you, and we are ready to help you upgrade. Experience the best Kia dealership in Antioch, IL beginning with our enormously stunning inventory of new and used vehicles. We have everything from new 2021 Kia models to pre-owned models that are $10,000 and under! 
We are conveniently located at 119 Route 173 in Antioch, IL and we proudly serve Kia drivers ranging from Antioch to Burlington, Grayslake, Fox Lake, McHenry, Round Lake and more surrounding cities! If you're asking yourself, "Why should I buy a Kia from Raymond Kia?" you should take a look at our online inventory, check out our spectacular financing options, meet our awesome staff and know that we care about you! You can learn more these reason below.
Quality Customer Service
Kia quality goes beyond the expertly-designed and built Kias you'll find on our lot. That quality also extends to our friendly and knowledgeable sales team as well as to our highly-trained service technicians. When you call our sales or service department, or come visit us in person, we treat you how you want to be treated. 
New and Used Vehicles
We have a great selection of brand new and certified pre-owned Kia vehicles. Our everyday low prices are enough to keep our customers happy, but that doesn't stop us from running great specials on vehicles like the 2020 Soul, a great Kia SUV for sale here right now. We know there may not be an ideal time to buy a car when money is tight, which is why we work with our customers to make sure they get the car they can afford.
Financing to Fit with Your Life
At Raymond Kia, we are a one-stop-shop for you. We take pride in all our vehicles we service. All of our customers are family, so we treat you as such. Taking care of you and your vehicle's needs are at the heart of everything that we do! You can come to us to find the perfect vehicle as well as finding financing to fit with your vehicle. 
If you are interested in financing options, we will provide assistance to help you find the perfect financing options that fit your needs. Whether you have bad credit, no credit, or are a first time car buyer, you can trust us to get you driving that car of your dreams. Again, our financing team will do our best to work with you no matter what your credit score looks like. You can fill out our online form to get started, and we will contact you about how we can help you with financing your next vehicle! 
Service for Your Vehicle
At Raymond Kia, taking care of your vehicles needs are at the heart of our dealership. Our highly trained technicians are equipped with nothing but the best equipment to get the job done right and fast. We stride to provide you with that much-needed peace of mind and confidence that your vehicle is in the best hands! 
Unfortunately, car trouble is unavoidable. A flat tire or other problem can come up at any time, and you might not be prepared for it. At Raymond Kia, we will be there for you to help you get back on the road. 
We are proud to be your local Kia service center and we make scheduling service appointments as easy as possible. All you need to do is either schedule it online by filling out our form, calling us, or making a visit to our dealership today! 
We will always cater to your busy schedule and find ways to make sure your appointment fits nicely into your daily schedule. We want to help you get your car back to working as it should be! Reach out to us if you would like to learn more.
Shop Raymond Kia 
Raymond Kia is your local Antioch Kia dealer, and we care about you. We have a great selection of vehicles, and we will do our best to help you get into the vehicle of your dreams! We have great financing options no matter what your credit situation may be! We want to anything and everything we can to get you driving home in your dream car! And, also don't forget about our high-tech service center that will have you in and out in no time! As we hope we don't see you there in the service center too often(: If you need more reasons as to why Raymond Kia is the Kia dealership for you, feel free to come in and today and we will show you more ways! 
Visit Raymond Kia Today!
Hours
Monday

9:00AM - 9:00PM

Tuesday

9:00AM - 9:00PM

Wednesday

9:00AM - 9:00PM

Thursday

9:00AM - 9:00PM

Friday

9:00AM - 9:00PM

Saturday

9:00AM - 7:00PM

Sunday

Closed
Make an Inquiry
We Care About You
The biggest reason to choose Raymond Kia as your Kia dealership is because we care about you. Our goal is to provide you with the best customer service possible so that you can upgrade your vehicle, finance your vehicle, or service your vehicle with a smile on your face. We want you to have a positive experience with us, so we will go above and beyond the call of duty to do what we can for you!
We have an expert sales staff that has detailed knowledge of our different makes and models and who want to help you find the vehicle of your dreams! Whether you want an SUV or a sports car, our staff is ready to run around our lots to find the vehicle that is perfect for you. We also have an experienced finance team and service staff who are at our beckoning call to help in the process! We, Raymond Kia of Antioch, just want what's best for you.
Online Shopping Tools
Visit our website to make your shopping experience even better. You can look through a list of available vehicles, search for a specific make and model, or schedule service. Fill out a finance application, view our hours, find directions on how to get here, or get caught up on all the latest Kia news.