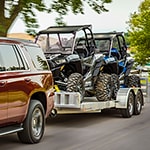 Antioch, IL locals with trucks or SUVs often have the ability to tow massive amounts of weight. If your vehicle has impressive towing capabilities, you should match these with careful preparation and smart towing strategies. At Raymond Kia, we want to share three important steps that you should always take before hitching up your trailer or boat.
Calculate the Weight of All Cargo and Passengers
Weight limits for trucks and SUVs that tow are meant to reflect the full amount of weight that's being carried. This includes every passenger in your vehicle, everything that's been loaded into its truck bed or other storage area, and everything within your trailer or boat. You then have to add this weight to the weight of the item you're towing. If you overlook anything, you'll be at risk of exceeding your auto's weight limits and causing serious automotive damage.
Stop in for Service
Have your vehicle serviced before heading out. Schedule a tire check and tire pressure check, brake service, oil change service, and wheel alignment service. Make sure that your mirrors are in good working order and that all of your lights are functioning. With the right pre-trip maintenance, you can avoid having additional stress turn minor issues into major problems.