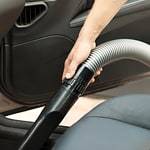 Entering a car and noticing massive clumps of pet hair doesn't inspire drivers. Pet owners may love their pets, but they have to deal with messy vehicle interiors thanks to all that unwanted hair. Old-time tricks may remove hair, such as using a balloon's static electricity or wet rubber gloves. Raymond Kia wants car and pet owners to know preventive steps might be helpful, too.
One basic preventive tip involves combing a cat or dog with a special brush that removes excess hair. If you can eliminate shedding hair, the hair won't find its way inside the car.
Taking further steps might make things easier for drivers, passengers, and pets in Antioch, IL. Seat covers designed for pets help keep dirt and hair from getting over everything. Putting the pet inside an appropriate travel carrier might be a good plan.
A car's interior could get covered with hair, despite an owner's best steps. Using a lint roller and a powerful vacuum might provide solutions to pet hair woes.