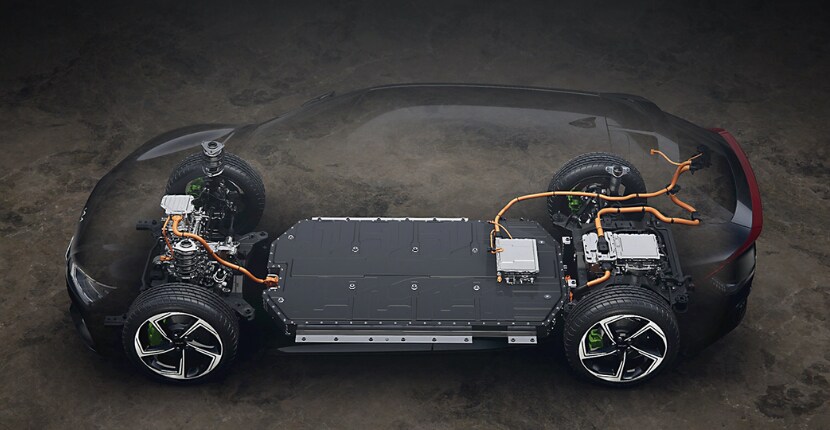 Raymond Kia has a proud tradition of offering a vast selection of Kia vehicles with the most advanced technology on the road, and now Raymond Kia is even more excited about Kia's electric, hybrid, and Plug-in Hybrid vehicles that offer something for everyone. Whether you are in the market for the electric Niro, the Sorento Hybrid, or the Niro Plug-in Hybrid, Raymond Kia can help you find your ideal vehicle.
Kia Electric Vehicles
Electric vehicles are powered by one or more electric motors using energy stored in batteries and do not rely on gasoline. Electric cars are quieter, have no exhaust emissions, and have lower emissions overall. Charging your electric vehicle is quick and convenient, and with more advanced technology, electric cars can travel farther, quicker, and with more power than earlier electric models.
The impressive, electric Kia Niro EV has an EPA-estimated 239-mile range, can be charged at home or at public charging stations, boasts 201-horsepower and 291 lb-ft of torque, uses a regenerative braking system to recharge the battery, has seating for 5, many driver-assist features, and plenty of interior room. Charging the Kia Niro electric car at home is simple with Level I Chargers for overnight charging that plugs into a standard 120V outlet with charging cables that come standard with your vehicle. Level II Chargers use a 240V outlet installed by a professional and offer quick charges. Electric batteries usually last 10-20 years and Kia offers a battery capacity warranty of 10 years/100,000 miles.
Kia Hybrid Vehicles
Hybrid vehicles utilize gas and electric power to help always maximize efficiency. What is unique about the hybrid is that there is no need to charge the battery at home or at charging stations because the battery recharges while you drive, including using regenerative braking. With a powerful turbocharged hybrid powertrain, Kia hybrid vehicles like the Sorento offer 37 MPG, 227-horsepower, 258 lb-ft of torque, 655 miles of combined range, available AWD, safety features, and room for the entire family.
The Kia Hybrid Sorento pulls out all the stops to make it a luxury SUV. The Sorento offers 3rd-row seating, 2nd-row captain chairs, 10.25-inch navigation display, Blind-Spot Collision Avoidance Assist-Rear, Rear-Cross Traffic Collision-Avoidance, UVO link with remote start and cabin climate control, 17-inch aero design alloy wheels, SynTex seating materials and heated front seats, Apple CarPlay, Wireless Android Auto, and much more!
Kia Plug-in Hybrid Vehicles
With a plug-in hybrid, you get the best of both worlds with gasoline and electric option. The plug-in hybrid uses an electric motor that is rechargeable and offers a quiet ride and no tailpipe emissions. In case the battery runs out of charge, the gasoline engine kicks in and runs the vehicle.
Kia's Niro plug-in hybrid offers an amazing 560 miles in one charge when in hybrid mode, 139-horsepower, and 195 lb-ft of torque, EPA-estimated 26 miles of all-electric range, and EPA MPG equivalent combined of 105. You can also charge your Kia Niro plug-in at home with the Level I and Level II chargers or at public charging stations. The Niro plug-in affords all the luxury with heated front seats, leather and cloth seat trim, wireless phone charging, seating for 5, safety features, and much more!
Visit Raymond Kia Today!
Your online search to find the best Kia motors near me or used Kias near me will lead you to Raymond Kia. Raymond Kia provides you with the most experienced and knowledgeable staff, helpful finance department, and amazing Kia service technicians. Visit Raymond Kia at 119 Route 173 Antioch, IL 60002, or call us at (888-474-5730) today to experience the best and check out Kia's full line of vehicles.