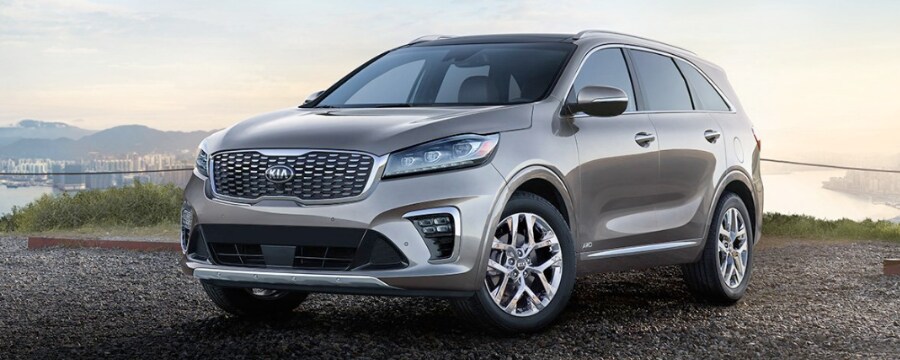 Amidst soaring fuel prices, SUVs are still being sold and manufactured in unprecedented numbers as we speak. In light of that, we at Raymond Kia have decided that it might be best to examine some of the hottest models in the SUV market, including our very own 2019 Kia Sorento alongside the 2019 Subaru Ascent, 2019 Honda Pilot and 2019 Nissan Route to find out which one is truly the best!
2019 KIA SORENTO VS. 2019 SUBARU  ASCENT
ENGINE POWER
 When you examine the available engines for both models, the new Sorento provides 2.5 times more horsepower and maximum tower capacity than that of the latest Ascent. This makes the Sorento more powerful pound for pound than one of its fiercest rivals in the segment.
INTERIOR ROOM
 Inside the 2019 Sorento, passengers can enjoy better front-row and second-row legroom than the 2019 Ascent. And while passengers in the third row can experience similar legroom in both models, the Sorento offers three comfortable seats compared to the Acsent's two.
WARRANTY COVERAGE 
 The latest Sorento features amazing warranty coverage and a more affordable price point at your trusted Kia dealer near me. With that in mind, Kia's SUV is the better choice than Subaru's Ascent from an economical standpoint.
2019 KIA SORENTO VS. 2019 HONDA PILOT
CONVENIENCE
 The latest Sorento is more convenient than the latest Pilot for many reasons and one of them is its 24 miles per gallon combined compared to 22 miles per gallon combined in the Honda model. This means that the Sorento offers you more miles for every fill-up in the gas station.
ECONOMIC ADVANTAGE
 Economically speaking, the 2019 Kia Sorento is the better option than the 2019 Honda Pilot because it offers a more superior 5 years or 60,000 miles of basic warranty coverage and roadside assistance. On top of that, the Sorento also comes with a lower starting MSRP at your Kia dealer Antioch, IL compared to the Pilot.
INTERIOR ROOM
 Kia shoppers will be greeted with more than 3 inches of extra front legroom in the new Kia Sorento than in the latest Honda Pilot. So if you want to accommodate passengers with more comfort and freedom of movement, the Sorento is certainly the better option.
SAFETY
 Safety is of prime importance especially in an automobile like the SUV which can hold numerous passengers in one ride. Between the 2019 Kia Sorento and 2019 Honda Pilot, the former is the safer model as evident in its five-star rating advantage over the latter's four-star rating in overall frontal safety crash rating.
2019 KIA SORENTO VS 2019 NISSAN ROGUE
INTERIOR ROOM
 The Sorento's interior offers better passenger room than the Rogue's with 146.4-cubic feet or 154.2-feet versus the 105.8-cubic feet in the Nissan Rogue, and is also one cubic foot bigger in cargo space. What's more, everyone in the back can enjoy extra room to stretch out, relax and enjoy their time while they are aboard the Sorento.
ENGINE POWER
 Behind the wheel of a new Sorento, you can access more road shattering power even in the most challenging road or weather conditions. Its standard 2.4-liter I4 engine generates 185-horsepower and 178 pound-feet of torque while its available 3.3-liter V6 features an impressive 290-horsepower and 252 pound-feet of torque. With the new Nissan Rogue, there is only one engine that offers 170-horsepower and 175 pound-feet of torque.
SAFETY
 You always want to ensure that you and everyone on board is protected with the best and the latest safety features available. The Sorento belongs to a modern fleet of 2019 Kia models for sale in the market that are built for optimum safety and protection, receiving top ratings both in the NHTSA Front Driver Crash Test and NHTSA Passenger Crash Test as a result. Overall, it has better safety ratings than the Nissan Rogue and features a lot more technological systems and innovations that are effective in stopping accidents from happening.
Hours
Monday

9:00AM - 9:00PM

Tuesday

9:00AM - 9:00PM

Wednesday

9:00AM - 9:00PM

Thursday

9:00AM - 9:00PM

Friday

9:00AM - 9:00PM

Saturday

9:00AM - 7:00PM

Sunday

Closed
Make an Inquiry